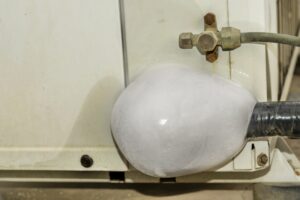 You might be one of many homeowners in our area who deal with ice growing on the coils of your AC. While this isn't a good thing to have happen (hence the topic of our blog post), it's not necessarily uncommon. We see this issue happen time and time again, which is why we want to try and inform our customers as to why this might happen. After all, your air conditioner is not an icebox, it doesn't use ice to cool the air of your home, so the cooling process should be relatively ice-free.
Right off the bat, if you need support for your HVAC in Lincolnwood, IL, then you can shut your system off and call us for help. Our team provides quick and effective AC repairs that are specifically designed to diagnose and correct problems, no matter how extensive they are. We can help you, just give us a call and keep reading!
The Reasons for Ice on Your AC's Coils
At this point you probably understand that ice never forms purposely on your air conditioner. If you see ice there, no matter what shape its taking or how large the ice block is, it's always a problem. The issue comes from diagnosing the problem, which can be difficult. Many different things cause ice to form on a coils, so we need to try to narrow it down.
Remember, you don't have to do this diagnosis on your own if you've got a helpful HVAC technician on your side to provide services.
Poor Airflow
Air needs to be able to circulate through your air conditioner, otherwise it's going to continue getting colder with no real end in sight. This isn't a good thing, since that cold air is not going to the rooms of your home where it should be. The end result can be you feeling hot and uncomfortable while your air conditioner cools things to freezing temperatures but you can't feel them.
This can be caused by a clogged air filter that's stopping airflow from circulating. Make sure you change your air filter out every 1-3 months so that ice can't grow on your AC since the hot air of your home is circulating into the AC.
Leaking Refrigerant
Another reason why your air conditioning might be growing ice on the coils is because of leaking refrigerant. Refrigerant needs to be able to circulate throughout your AC, from the condenser coil to the evaporator coil and back. If there's less refrigerant to cycle, that refrigerant might not go through the proper cooling and heating that happens during a normal AC cycle.
The end result can basically be subpar temperatures in your home, poor energy efficiency, and ice growing on your condenser coil as the refrigerant stays cold but the heat isn't being dispersed outdoors.
A Compressor Issue
Due to a refrigerant leak, a component problem, or a failing compressor, there could be other reasons why your AC is growing ice. Unfortunately, we can't diagnose the problem properly unless we come to your home for a service call. This might be a great point to call for support.
Give the team at Roberts Heating & Air Conditioning, Inc. a call today to schedule an AC repair.