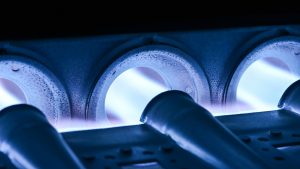 This is a simple question but the answer might not be so easy. For anyone who isn't familiar with the gas known as "carbon monoxide," it's an odorless, colorless material that is a byproduct of combustion. It's extremely dangerous to inhale and can easily lead to nausea, fatigue, memory loss, impaired motor function, and even unconsciousness. For any homeowner with a gas furnace, you should know about this material and how it works.
Don't worry, furnaces are safe machines. We wouldn't install gas-burning systems in homes if we didn't believe that they could operate safely without exposing your family to carbon monoxide. However, over years of neglect and through missed or amateur furnace repair in Glenview, IL, a furnace can quickly become unsafe.
Let's talk about how you might be able to detect if your furnace is leaking carbon monoxide, and what you can do about it.