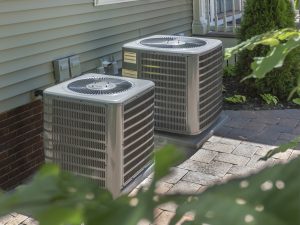 AC maintenance is the perfect service to sign up for in the springtime. Spring is when we're winding our heaters down and our air conditioners aren't in full swing yet, which means we've got some downtime to perform inspections and to make sure they're ready for the fight against scorching temperatures. Is your air conditioner ready?
It's okay if you didn't immediately answer yes to that question. Many homeowners don't know the condition of their AC systems, and how could they? Unless you had background knowledge or training in the field of HVAC, it can be near impossible to know how ready your air conditioner is for summer. So, with something like routine maintenance performed, you get access to a certified, licensed professional who performs an evaluation to give you the green light that your system will survive another year. If that sounds like a good idea, then contact us for AC maintenance in Winnetka, IL.
The Benefits of Routine Maintenance
When we urge homeowners to receive routine maintenance, it can be hard for them to understand just how important a service like this really is. After all, even though we think it should be mandatory—plenty of neighbors and friends will tell you that you don't need it. So, as your resident HVAC service provider, we'd like to go into detail on what's so important about this service.
Higher Efficiency Levels. When you sign up for routine maintenance, you're getting a promise of increased efficiency levels. Over time, your air conditioner is going to run less efficiently just by the nature of how it works. This will happen regardless of the type of system you use, but it doesn't have to be the new normal. A professional technician can make all the adjustments to acquire increased efficiency and lower your subsequent energy bills.
Lubricating Ball Bearings. Did you know that there were ball bearings and other similar parts in your air conditioner? These joints are constantly in motion and require lubrication to run safely and effectively throughout their lifetime. With routine maintenance, this kind of fix can be made easily and every year.
Minor Adjustments to Comfort Levels. Is your air conditioner not running to your specific comfort standards? Well, when a professional comes to perform maintenance, they can make minor adjustments to the system that might make it work better for you and your family. Don't deal with subpar cooling, ask us what we can do to adjust your system today.
Minor Repairs. Most homeowners don't know that when we visit on a maintenance appointment, we also provide small fixes and repairs to your system. We're dead set on mitigating future repairs, so any minor fixes we can make now will help you avoid problems later on.
Knowledge of Future Repairs. One of the best features of a maintenance appointment is that a professional will let you know of any serious fixes that need to be made in the future. You'll have to time to plan your time and your budget accordingly to get your system repaired.
We could talk about maintenance forever, but we hope you'll agree with us that it's well worth the cost!
Call the team at Roberts Heating & Air Conditioning, Inc. for routine maintenance today!