We know that readers usually come to our blog for informative and educational posts about the systems and services that we offer. However, as is the case across the country and the globe right now, there is one topic at the forefront of our minds. That is COVID-19, or the Coronavirus.
We understand that homeowners everywhere are exercising extreme caution when it comes to mitigating the chance of exposure to this virus in their homes. Trust us, we are doing the same in ours. And we promise you that every member of our team will take these same precautions when working in your home and on your property.
If you have an appointment scheduled with Roberts Heating & Air Conditioning, Inc., rest assured that we'll continue to provide you with the exceptional service that you deserve in this uncertain and trying time, and that we'll do so while making your health and safety our top priority.
Our entire staff is well aware that prevention starts at their homes, that it continues in the workplace, and that it extends into the residences of our valued clients. They have the information and supplies that they need to do their jobs while protecting both themselves and the clients that they serve.
If you have any questions or concerns about your upcoming appointment, or if you are thinking about booking an appointment but want to know more about our specific preventative measures, please do not hesitate to contact a member of our team.
Indoor Air Quality Products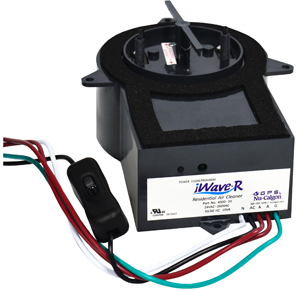 iWave-R
A revolutionary self-cleaning, no maintenance air purification system designed for proactive whole house purification using patented cold plasma technology. iWave-R uses the same air cleaning approach as nature.
Some features include:
Patent-pending self-cleaning design ensures ongoing peak performance
Needle point ionization actively treats air in the living space
For duct systems up to 6 tons (2400 CFM)
Universal voltage input – 24VAC to 240VAC!
Universal mounting with magnets
Flexible design with no replacement parts
Kills mold, bacteria and viruses
Reduces allergens, odors, smoke, static electricity and other airborne particles
Keeps coil cleaner
Programmable cleaning cycle
Alarm contact option for secondary notification
UL and cUL approved
We are currently offering the iWave-R for only $699!
Take advantage of this special today!