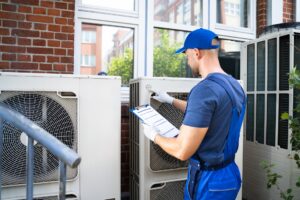 Your AC is still running… so why would you consider replacing it, right? After all, it has a few years left in it. But what if it's actually costing you more in the grand scheme of things?
AC replacement in Morton Grove, IL might be a good option if you're looking to lower your energy bills, or if your air conditioner is 10 years old or even older. Let's tell you why.
Your Need Better Energy Efficiency
Do you know how much energy your air conditioner uses? Most of us don't, but it's not crazy to assume that it's the highest energy expense in your home. It's a necessity, so we often feel it's out of our control on how much we pay.
But it isn't. In fact, depending on what you choose for a new AC (like a mini split or heat pump) you can seriously boost your home's energy efficiency, sometimes requiring 50% less energy to maintain the same comfort that you have now.
Even if you want to replace your central AC system with another central AC, that's okay, and there's still a reason to upgrade–energy efficiency standards have changed.
At the start of 2023, SEER2 took over. That's a rating system that manufacturers must abide by to produce air conditioners and heaters. SEER2 replaced the original SEER model, and now units have to be more energy efficient than they were before.
Your AC Is in the Double Digits
Air conditioners last 10-15 years, but many homeowners have eyes wide shut to the lower end of that range. Unless you have a perfect maintenance track record and optimize your temperatures to not freeze or overburden your air conditioner, your AC might land on the lower end of that spectrum.
Your AC isn't guaranteed to fail as year ten starts, but what if it does? What is your current plan to replace it? Most homeowners end up financing a replacement, and while that's certainly an option, it's better to plan now so you aren't blindsided later. Or replace your unit now, renew that 10-15 year cycle, and lower your energy bills in the process.
Increase Your Home Value
Looking to sell sometime soon? An old AC can actually be a detriment to your asking price, because it just means the buyer will have to replace it within the next few years, and that's another cost they need to consider.
But a newer AC? You can include much of that in your asking price and mention that it's new and energy efficient, which can help improve the offers you receive. It's just one piece of the puzzle, but think about it: if you were moving into a house and the AC was a few years away from breaking down, wouldn't it make you think twice?
An Upgrade All Around
Replacing your AC before it's completely dead has its benefits, but of course, it depends on your specific circumstances. If it makes sense for you to replace an old unit before it fails and leaves your home comfort in shambles, contact us today to talk about your replacement.
Contact us today to discuss replacing your air conditioner as soon as possible.