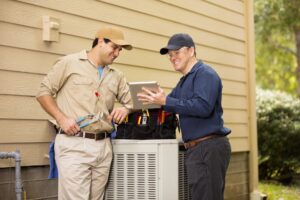 Air conditioning installation in Winnetka, IL is a necessity, but we also understand it can be a hassle when you think about energy ratings, ongoing monthly bills, and financing options all at the same time.
Let's talk about energy efficiency, because it's going to be a big part of not only how you get an air conditioner installed and which unit you choose, but how your ongoing bills are for the next 10-15 years.
Choose the Right Size Unit
Thankfully, we're here to walk you through this step from start to finish. When you choose an air conditioner unit that's too big for your home, you can create problems. It draws so much power that you don't need to cool your space, so it costs more just to run it in the first place.
So while your air conditioner may not endure wear and tear at the same rate as a properly sized unit, it's not going to increase its 10-15 year average lifespan, either. So there's no point in getting an oversized unit–we'll do a pre-installation appointment to help you find the right air conditioner size for your home.
Go for High-Efficiency Air Conditioners
You're given a few options, and the more energy-efficient unit is more expensive. The initial cost may be more, but what about the long run? How much is that lower-tier unit going to cost you in month-to-month bills versus the high-efficiency air conditioner?
Think about the ongoing expenses of running an air conditioner; not just the short-term price. Besides, you can use our financing options if you really need to, and save on a good portion of the energy bills. Even if you only save $10 a month, that's an additional $1,200 to $1,800 back in your pocket over the lifetime of your air conditioner.
Begin With a Smart Thermostat
Smart thermostats need a little bit of input to get started, but the long-term output is stupendous once you get the ball rolling. Just set your thermostat to the temperature you like and adjust it accordingly, and over a short period of time, your smart thermostat will automatically change the temperature as it sees fit.
The goal is to keep you comfortable and happy, but on the back end, your thermostat optimizes the best times to turn the temperature up and down. You don't really notice the change, but in the background, you're saving money. Your smart thermostat can adjust for the time of day, too, so you spend less money cooling your home in the middle of the night than you usually do.
Begin Your New AC Installation With Efficiency at the Helm
When you factor energy-efficient solutions into your installation right from the start, you win and save big. Beyond your unit being more energy efficient and saving money, it should (hopefully) endure less wear and tear over time and save you on repair bills. Just be sure to maintain your new air conditioner with annual appointments right from the start, and it should serve you well.
Contact Roberts Heating & Air Conditioning, Inc today to schedule your new air conditioner installation appointment as soon as possible.