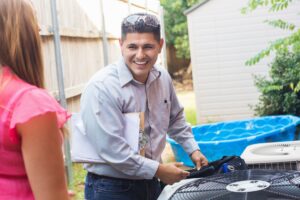 How do you find the best commercial AC service in Morton Grove, IL? You start with how long it's been in business, track its reputation, and see what services they offer. We know that sounds like a lot, but it's your business we're talking about–due diligence is required.
Finding the best commercial HVAC contractors isn't about clicking on whatever pops up first on Google and hoping it sticks. It's about finding a company that puts your business above their own, drives results you can rely on, and helps keep the flow of commerce rippling through your business. Let's talk about how you find that.
Start With the Years in Business
Everyone has to start somewhere, but the company that's been around for two months and has three employees that you found on Angie's List isn't exactly cutting it. Not for a commercial job.
Who do you want to install, repair, and maintain your commercial AC units? The seasoned professionals with years under their belt and a track record to prove it. That's who.
While this is a good place to start, the time spent in business only tells you how long they've been successful. But there are other relevant markers we need to keep in mind.
They Need to Be Insured
Your business already has enough to worry about; contractor liability shouldn't be added to that list. When you go with a professional team of contractors, they'll be insured to ensure you're protected, they're protected, and everyone's happy.
You don't need unnecessary negativity brought onto your business in the event that someone slips and falls and word gets out. Get a company on your side that knows how to handle these situations and is insured enough to do so.
Check Their Services
Do they offer enough services for your business? Look at the commercial services offered on their site to make sure they offer everything that you need to keep your business running and maintain the comfort of your guests.
Give Them a Call
A website and testimonials look good, but is that 100% of the business you're seeing? Call the company and ask to talk to someone in charge, ask them questions, and get to know how they operate. Make sure they know how to take care of your specific needs before you bring them on for the job.
Ask questions. Secure a quote. It's good to search online (hey, it's how you found us), but the way that HVAC contractors uphold their words matters. You can get that and so much more from a phone call or meeting.
Let's Talk About it
We're ready to answer your questions, describe our services, and help you find out that the perfect HVAC contractors you've been looking for are right here in front of you. Let's find out what your project needs are and hear about the scope of work so we can get started as soon as possible.
Contact Roberts Heating & Air Conditioning, Inc. today to schedule your commercial air conditioning appointment as soon as possible.