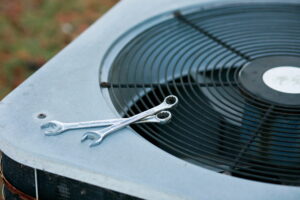 Your air conditioning system is going to require service eventually. The trick is trying to figure out when the AC must be fixed and when you can skate by until a few weeks later when you've got the money to pay for it. Unfortunately, the safe bet is that most AC problems would be better off with immediate attention. Realistically though, you might not have the money right now to pay for an immediate repair.
We completely understand, and we're never going to shame anyone for being on a strict budget. Times are tough, especially with high gas prices and supply chain problems, it's important that you only spend money on things that you absolutely need to. Let's talk about air conditioning repair in Morton Grove, IL, and whether or not you need to schedule it immediately.
Our team is always available to give you additional pointers if you need specific support.
Breakdowns Are Always Emergencies
First things first, if your air conditioner is completely broken down and it won't even start up properly, then it needs repairs ASAP. The good news is that the problem isn't going to get any worse, since you're not using your air conditioner. But you're just not going to have any cooling in your home until you get the system fixed.
If you're on a tight budget, why not call one of our technicians for at least a diagnosis. Diagnosing the problem is a lot cheaper than paying for it to be fixed. We'll even give you an estimate on the diagnosis cost, and you can tell us what your budget looks like going forward. If a repair for your system is too expensive, we can discuss financing options or a payment schedule that works for you and your family.
Does Your AC Still Work? Here's What to Do
Your AC still works! That's fantastic news. Well, it is for now.
If your air conditioner still works but is dealing with a problem, you might still be on a tight schedule for AC repairs. If the system is grinding, shrieking, or making an extremely disconcerting noise, then you're going to want to get it repaired immediately. The louder and more uncomfortable the noise, the worse the problem is.
If your system is struggling to operate, that's also a good reason to get it fixed. But at least in this scenario, you still have cooling in your home. If your AC is older and reaching replacement age, you can work with us to have a schedule ready so that when it finally does break down, you have the funds for a replacement.
High Energy Bills Require Repairs Too
We talk a lot on this blog about how high energy bills signal the need for system repairs. While this is true, and we don't recommend anyone leave their AC running with low-efficiency levels, it's not as much of an emergency as some of the other repair needs we've mentioned.
Just be prepared for the fact that if you are on an extremely tight budget this year and can't get your system fixed, you'll pay more on your energy bills due to deteriorating efficiency.
When you've got the time, make sure you call the pros at Roberts Heating & Air Conditioning, Inc. for specialized AC support.