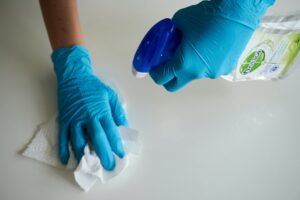 Air purifiers are wonderful systems that help target contaminants and remove them from your indoor air. If you've heard about them, or if you have neighbors and friends that use air purifiers, then you might be intrigued by how much this system can help. That's what we're here for!
When it comes to HVAC services in Wheeling, IL, air purification is one of the most powerful and effective services we provide. We can install an air purifier that protects all of the air in your home with ultraviolet light.
For homeowners that don't know about the technology, or for homeowners who are experts in ultraviolet light purification, this blog post is going to go into the science behind air purifiers. We'll discuss how it works, why it works, and what it might be able to provide for your home! Hopefully, you leave this post more informed about air purifiers and the technology that can protect your air.
What Is a UV Air Purifer?
A UV air purifier is also known as an "ultraviolet air purifier" or a "germicidal light air purifier," but they all mean the same thing. It's an ultraviolet light that's mounted in your ductwork. This light eliminates all of the biological contaminants that go through your ducts so that your air remains safe and clean.
UV air purifier are proven to improve the health and safety of homes while also doing things like eliminating foul odors and making surfaces easier to clean. If you're interested in learning how this type of system cleans the air, then keep reading!
How Air Purification Works
How exactly does a light bulb clean your air? Well, it's going to take a little bit of micro-biology to explain, but we promise we'll keep it simple!
Ultraviolet light travels at a frequency that is harmful to single-celled organisms. It exists in sunlight, which is why mold spores and other bacteria can't survive in direct sunlight, since UV rays will eradicate them in a process called "irradiation." The small amount of radiation in the light waves will do damage to the cells.
More specifically, ultraviolet light inhibits a cell's ability to reproduce. Since that's house viruses, bacteria, and mold spores do their damage, this can ultimately cause these microorganisms to become harmless.
Before you get scared of this process, remember that our skin protects our sensitive organs from ultraviolet light so it's also harmless to human beings. Not to mention the fact that we mount these lights in your air ducts so they're out of sight and out of mind!
Protect Your Home Today
The truth is that ultraviolet lights work. They protect all of the air that travels through your home's HVAC system from biological contaminants like viruses, bacteria, and even mold spores. They reduce odors and keep contaminants from giving your immunocompromised friends a tough time.
If you'd like to invest in a system that can do all of this, then be sure to call us. We'll get you set up with an air purifier today!
Call Roberts Heating & Air Conditioning, Inc. for air purifier services in Wheeling, IL.