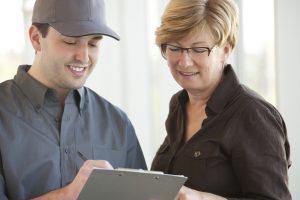 Air conditioning has come a long way in the past couple of decades. While amateurs have gotten sketchier, reputable service professionals have gotten more trustworthy. This means finding the right AC technician when you need help in your home is more important than ever!
Since the stakes are high and you don't want to pay for subpar service, we've decided to talk a bit today about finding the right AC professional. If you're in the market for air conditioning repair in Deerfield, IL, then we implore you to spend extra time finding a team of pros that you really trust.
How do you know you can trust your prospective HVAC provider? Well, keep reading and we'll get into the details. We'll talk about what types of qualifications you should look for, the experience that makes a difference, and how a contractor can earn your trust, rather than expect it.
How to Find the Best of the Best
When you're looking for air conditioner repair, you don't want poor service. Poor, amateur service could end up costing you in the long run with a reduced AC lifespan, expensive repairs, or some kind of problem that makes your life miserable. By signing up with the best team you can find ahead of time, you're really making your life a lot easier.
How does one find the best team they can for AC repair? Well, we're glad you asked! Take a look below as we get into the details.
Experience
Experience is one of the most important qualities of a great AC service provider. For instance, our team has a combined 78 years of experience between all our service techs, installers, and engineers. When you compare that to some amateur with a few years of working in a garage, you can start to see the difference.
Don't be afraid to ask your local HVAC professional about all of the work they've done. Do they have experience performing the types of repairs you need? If they can comfortably say yes, then you're in good hands.
Qualifications
Have you ever heard of NATE certifications? NATE stands for North American Technical Excellence, and it's a certification that only the most trustworthy and professional technicians in the country can receive. It's a pretty good bar to set if you want anyone to diagnose or repair your air conditioner.
Ask your prospective contractor about the other types of certifications they have. Do they have any awards or partnerships with manufacturers? Usually, the more awards, partnerships, and certifications they have, the more well-equipped they are to provide you with excellent service!
Customer Service
This is one of the most important aspects of professional service that homeowners seem to ignore. It's almost as if people think HVAC technicians should treat them like garbage. This shouldn't be the case at all.
HVAC professionals should be just like any other service provider—courteous, polite, friendly, and professional. If they treat your home or your equipment without the respect it deserves, you're never going to see the results you want. Only work with a team that treats you right.
Our team at Roberts Heating & Air Conditioning, Inc. is more than qualified to help you. Call us today!