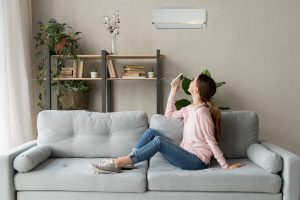 Ductless air conditioners are not just specific AC systems for particular types of homes. Sure, in some homes they definitely run better than in others, but that's not why so many people are using them these days. Ductless air conditioners are all the rage nowadays because they're hyper-efficient and provide a comfort solution that functions without air ducts. Yep, you heard us right.
You're probably frustrated, asking us "how the heck could ductless AC in Winnetka, IL cool your home without the use of air ducts?" After all, every movie or tv show has shown us that air ducts are basically required in every home or building imaginable, right?
Wrong. Duct installation services can be expensive and intrusive, especially in older or smaller homes. With a ductless AC, technology allows us to cool a home easily without the use of an air transfer system like ducts. Let us explain how.
How Does It Work?
Ductless air conditioners work similarly to your conventional central air system with a few major differences. It still transfers heat from inside your home to the outside with the use of refrigerant as well as evaporator and condenser coils. However, the big difference lies in how the cooled air gets to you. A central air conditioner has what the name implies, one centralized system that cools air and sends it through your air ducts to treat your home. This means air can get leaked at multiple points and contribute to hot spots that can be difficult to deal with.
A ductless air conditioner runs with an outdoor cabinet and up to four air handlers, also known as mini splits, that blow air directly from a fan unit inside of them. The cool air goes directly from the system into your room, there's no play for it to leak or lose effectiveness.
The Benefits of a Ductless Home
With ductless air conditioning, you can count on a few serious benefits that will really make your home feel more comfortable. Here are just a few.
Customized comfort. When you set up the individual air handlers to blow cooled air into your home, they can be set up in strategic locations so that they're cooling the most important parts of your home. Avoid fights over the thermostat and cool specific areas to your desired temperature.
Increased efficiency. Not only is the technology within a ductless system incredibly efficient, but it also doesn't rely on air ducts to transfer heat. Leaky ducts can cause up to 30% of treated air to be leaked in average homes, so a ductless system avoids that altogether.
Simple installation. Having air ducts installed in your home is a painful process. There's a lot of excavation, intrusive work, and it can be downright expensive. Luckily, even though ductless air conditioners run more expensive than a central AC, they require simple installation that can be done in one day.
We could go on talking about the benefits of a ductless system, but it really just depends on the home. If you think a ductless system might be right for you, then give our team a call today.
The Pros at Roberts Heating & Air Conditioning, Inc. can get your system up and running. Call us!