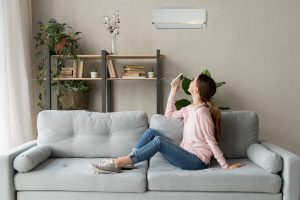 Ductless air conditioners are not just specific AC systems for particular types of homes. Sure, in some homes they definitely run better than in others, but that's not why so many people are using them these days. Ductless air conditioners are all the rage nowadays because they're hyper-efficient and provide a comfort solution that functions without air ducts. Yep, you heard us right.
You're probably frustrated, asking us "how the heck could ductless AC in Winnetka, IL cool your home without the use of air ducts?" After all, every movie or tv show has shown us that air ducts are basically required in every home or building imaginable, right?
Wrong. Duct installation services can be expensive and intrusive, especially in older or smaller homes. With a ductless AC, technology allows us to cool a home easily without the use of an air transfer system like ducts. Let us explain how.