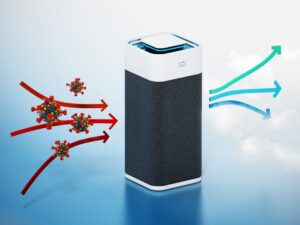 Is it really a good idea to get a whole home air filtration system in Winnetka, IL? We know it's a big commitment and another system to maintain in your home, but most homeowners just assume the AC filter takes care of your air quality.
We can assure you that it's helping, but it's certainly not pulling all that weight. Your air still has a bunch of particulate matter floating around, and it's impacting your family's health.
The short answer is to ask whether your family would benefit. If it's a yes, then let's explain why so you can get a full, clear picture.
There's Particulate Matter in Your Air Right Now
Perfect air quality isn't possible, but there are measurements of air quality that show you what's actually floating around. The more particulate matter, the worse off your health can be.
Particulate matter can consist of mold spores, dust mites, pollen, pet dander, and more. The good news is this: your respiratory system has a method for dealing with debris that enters the lungs. It can filter it out.
But it takes work, and it's not guaranteed to be perfect. The more particulate matter you breathe in, the more unnecessary exposure you have to whatever bacteria is present in your indoor air supply. The short version is this: better air quality is linked to better health. It's that simple.
Reduces Symptoms of Asthma
Asthma is a disorder where your lungs and airways can not only narrow, but they can become inflamed and result in asthma attacks. It's a serious condition, and it's made worse by poor air quality.
Poor air quality will affect your nose, throat, and eyes no matter who you are. Some individuals simply have an immune system that's more equipped to deal with it. But sufferers of asthma aren't so lucky.
By removing particulate matter–which consists of allergens–from the air, you're effectively reducing the severity of any asthmatic reaction. You're also cutting down the likelihood of an asthma attack if you control your indoor air quality exceptionally well.
You All Sleep Better
Your respiratory system works a lot while you sleep. Sure, your breathing slows and your BPM goes down, but not for your entire sleep cycle. Your breathing actually changes throughout the night and in different stages of sleep.
When your lungs are pulling overtime because the bit of air it does pull in throughout the night is riddled with pollutants and particles, it doesn't feel very good. It may even wake you up in the middle of the night. Better air means better sleep, and that's for everyone in your house.
Make the Upgrade Today
Your AC filter is helping, but it's not doing enough to filter all the air in your home. A whole house air filtration system is designed to improve the air quality for everyone, unlike those small filtration devices you buy that only handle a few hundred square feet. It's time to upgrade your air quality.
Contact Roberts Heating & Air Conditioning, Inc. today to schedule your air filtration system installation as soon as possible.